WHAT AN ANCIENT RIVER GIFTED, IN RETREAT!
Folklore has it that the mighty River Bharatapuzha took a temperamental turn centuries ago. Back in time, this river, also known as the River Nila, had gushed languidly across present day Arangottukara (aran.gottu.ka.ra.). And thus the name of this dreamy little village. Arangottukara literally means "the land the river left behind". Since then civilization flourished in all its unhurried glory, largely preserved to this day. A perfect setting for a boutique wellness retreat that embraces nature and all the goodness of time-honoured tradition, to bring you a life-changing experience. Perfect for a bunch of friends (three couples or six individuals), looking for a quite re-discovery of their inner purpose. Welcome home!
STEEPED IN CULTURE AND FOLKLORE
LEELALAYAM
Leelalayam, or the abode of miracles, was conceived as an oasis of peace where one could allow the leisurely pace of life and the calming effect of solitude work its magic, so that one leaves with a clear sense of purpose and an enhanced joy quotient. Eighty years ago, in pre-independence India, on this very spot stood an ancient Mana, a Brahmin household, wrapped in tradition and culture. Over time, with its inhabitants leaving to settle in Geneva, the Mana fell on sorry times with no upkeep. As scripted by fate, the Mana exchanged hands in 2010 and ownership passed on to an ardent enthusiast who had always dreamed of owning a piece of ancient history in this land already rich with tradition and folklore.Thus was born Leelalayam. A heaven of peace built lovingly from the ruins of a grand old Mana and furnished with traditional art pieces collected over the years by the new owners. An idyllic boutique retreat, to kindle a renewed zest for life and living.
NESTLED AMIDST VERDANT NATURE
FACILITIES
3 BEDROOMS

Two with king-sized beds, one with a queen-sized bed. The mattresses have been carefully selected to give you a rejuvenating sleep. Each bedroom has an attached bath and a little private nook, just in case you'd like to put pen to paper.

A RAIN DECK

Perched on the second floor and connected by a traditional corridor accented with handicrafts, the rain deck is ideal for experiencing the rains. Or spending lazy evenings in idle chatter, thought or simply communing with nature in silence.

A GRAND LIVING ROOM

Tastefully decorated with period conversation pieces, this living area even has a traditional 'Thalam', a four-poster vaulted recess. The lovingly crafted space exudes a welcome warmth that at once tells you that you are home and in good hands.

LUXURIANT CORRIDORS

Lavish spaces abound at Leelalayam. Lengthy corridors where one could pace idly while soaking in the silence and nature outside. Or appreciate the time-honoured pieces of art that punctuate spaces, collected from all over India.

ANCIENT LOFTS

If you are looking for a little mystery, the older portion of Leelalayam is just where you would want to be. Richly panelled in wood, this wing houses a home theatre, meditation room and a library where you could soak in some inspiration.

PRIVATE DINING

Commune over food, served in a private dining room with a period-design dining table that can seat six. The food is traditional vegetarian, prepared just the way the ancients did, devoid of harmful or artificial ingredients. Food for the body. Food for the soul.

SPA TREATMENT

Separate spas for men and women, so you wouldn't have to wait for an indulgent experience. The equipment made of traditional wood and ayurvedic oils are just what you would want to rejuvenate your body and welcome back lost exuberance.

LUSH GREEN LAWNS

Little islands under trees, luxurious hammocks, a sprinkling of native fruit trees, a fish pond, orchids, pepper corn creepers and little floral shrubs decorate the lush green lawns at Leelalayam. Just the setting for a reviving morning walk or a quite post dinner stroll.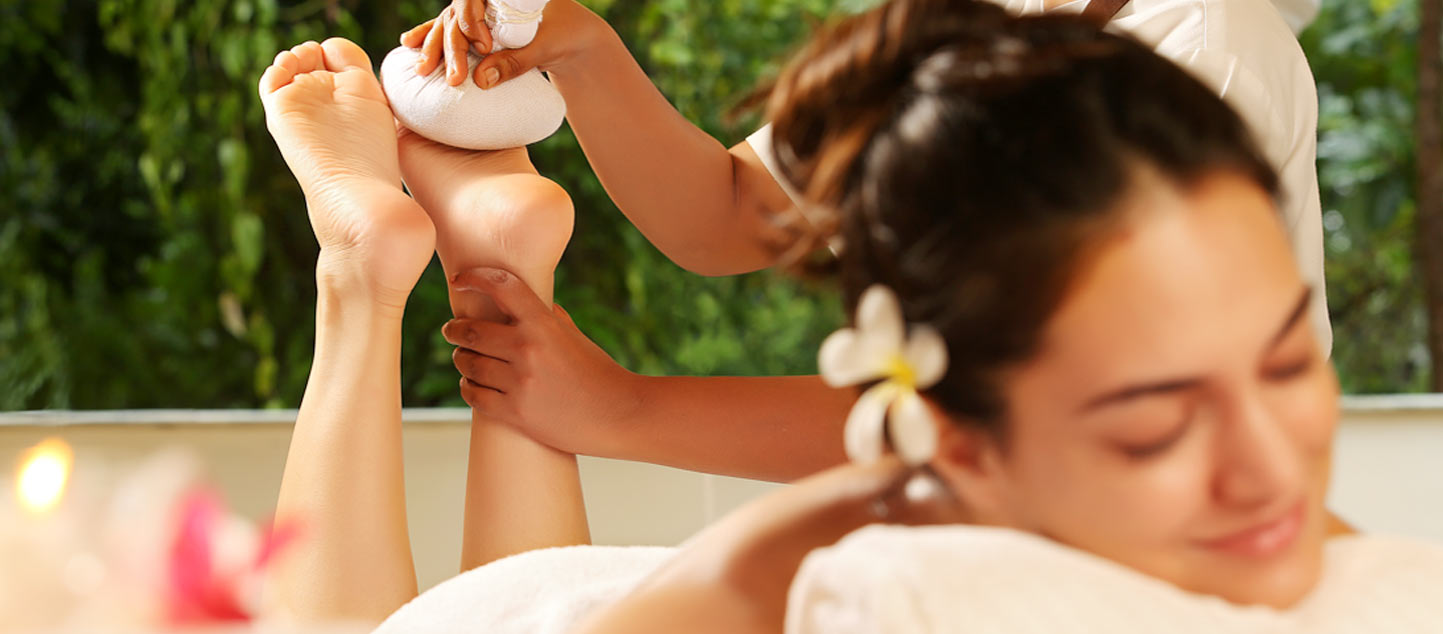 WELLNESS
Ayurveda for us is a way of life. Maintaining good health is what our bodies were primarily designed to do. However the stressful lives that we lead today coupled with pollution, unhealthy diets and lack of physical activity has given rise to numerous lifestyle diseases. At Leelalayam we bring to you the best Ayurvedic and holistic wellness bridging yesterday's heritage with today's needs. Leelalayam offers the ideal getaway from the fast-paced. Mundane everyday life to a sanctuary of peace and relaxation. It has been set up not to sell Ayurveda as a product, but rather to provide a wholesome, complete experience that will leave you enriched, refreshed, and present you with a unique opportunity to rekindle a relationship with nature and getting back to where you belong. Adopting ecologically friendly practices that are focused on inspiring the spirit and building positive health. True healing happens when healing can bring about unity of body, mind and soul. Come to us and leave healthy, rejuvenated and content ready to embrace life in all its' glory.